Congo's Volcano is called "General Nyiragongo," by local inhabitant of Goma because when he comes, everyone runs. Here one of the world's most volatile volcanoes poses an existential threat. Every few decades, Mount Nyiragongo showers the city in lava. With tourism getting traction in the park local tour operators have emerged employing young people surrounding Virunga National Park. One tourist visiting the Nyiragongo Congo's volcano generates jobs to up to 5 people. The guide, the porter, the driver, the park ranger and the cook. Young people who could turn to armed groups remain law abiding and contribute to the GDP thanks to around one thousands international visitors making it to the Nyiragongo Congo's Volcano every month.
The Nyiragongo Volcano in Congo is one of the most active volcanoes in the world. It stands proudly on the border of Congo and Rwanda, sitting over 11,000 feet high. The volcano's caldera (magma chamber) is almost one mile wide and it holds a deep lava lake. If you are looking for a hiking adventure, climbing to the top of the Nyiragongo Congo's volcano and watching its bubbling lava at the summit is a must. So, before you decide on hiking Mount Nyiragongo, here are a few insider tips:
How to get there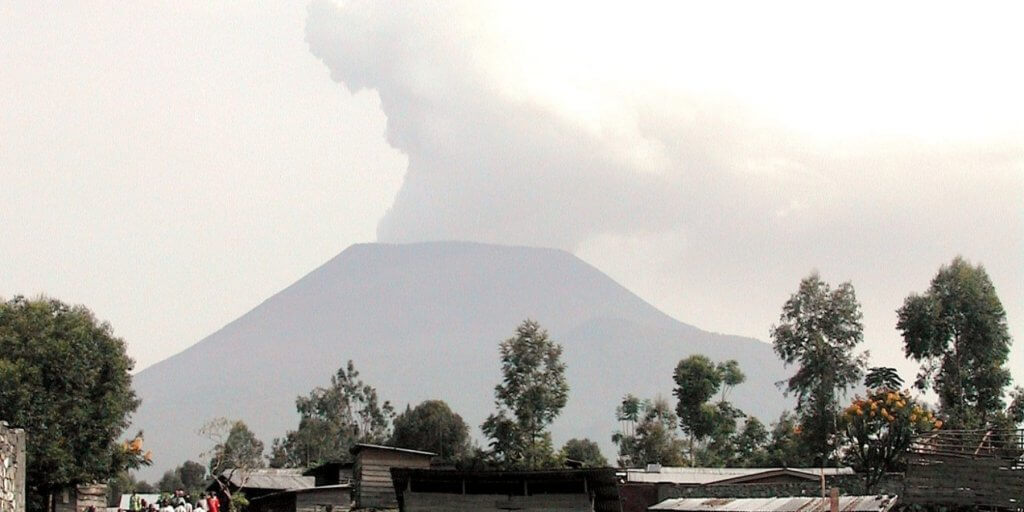 Most tours operators start their package at the town of Gisenyi in Rwanda. For added convenience, the Kwafrika Travel Nyiragongo Congo's Volcano experience starts with you right as you descend from your flight at Kigali International Airport and from there, it takes an average of 5 hours to reach Gisenyi and cross into Goma, Congo. The volcano is around 9 miles away from the town of Goma. Few years back, it could be possible for you to rent a car, or pay around $40 to a taxi driver to take you to the Virunga National Park. For some reasons, the park has prohibited that practice and has made it compulsory for visitors to book transportation with tours operators during the Congo's volcano experience.  You will make sure to be in Kibati, the hiking starting point before 10 a.m. which is the departing time.
The cost
Some travel agencies like Kwafrika Travel offers a private tour. Using Kwafrika Travel services is the best option for you as we will take care of everything including transportation to and from the volcano. Also, if you need more assistance with hiking, we will assist you with a porter- a person who will carry your backpack. Moreover, you should bring cash for tips as it is customary.
Our non-ordinary cook will carry snacks, drinks, and prepare dinner when you get to the summit. He will also serve belly-warming beverages to battle the cold temperatures. As you may feel dizzy because of the altitude, we will make sure to keep yourself well fed and hydrated during the Nyiragongo Congo's Volcano experience.
In addition, accommodation is included in your price if you book with Kwafrika Travel. Once you summit to the top of the volcano, there are 12 huts waiting, each with single beds. Bring lots of layers as the temperatures dip at night.
To get a quotation, please click here and send an inquiry to our tour consultants team available 24/7.
Be physically prepared
You don't need to be an athlete to take on the Nyiragongo Congo's volcano hike, as the duration is only two days.
Nevertheless, it still is very demanding and you need to be in good health conditions. The surface is not even, and the volcano is rock-strewn. The altitude is extreme, so you may feel tired or dizzy, but don't feel discouraged!
Everyone can climb the mountain at their own pace, be it fast or slow hikers. Always bear in mind that the summit is at 11,400 feet high, so it will be hard work. Whatever else you may want to carry to the volcano, you can always give it to a porter.
Have a packing list
The conditions in the hike are quite varying and extreme, so make sure you pack everything you need. As in any mountain, the temperatures may vary from hot in the bottom to freezing cold in the peak. That said, remember to pack all the warm clothing you can. Though there is a volcano lake in the summit, you will freeze.
There is also a lot of rain during the wet seasons (between March and May, and again in November) so have a change of clothes just in case. It would be a great idea if you also bring a sleeping bag to put on top of the mattresses of the huts, otherwise, you will feel cold. They are not well insulated and the mattresses are thin. Unless you are sure you don't get sick in high altitudes, buy some Diamox to take during the hike. Some people just feel light-headed, whereas others get really dizzy.
Outfitters:
For U.S. $100 you can rent a backpack stuffed with a sleeping bag, blanket, fleece jacket, and overcoat. Make sure to bring extra socks.
The actual hike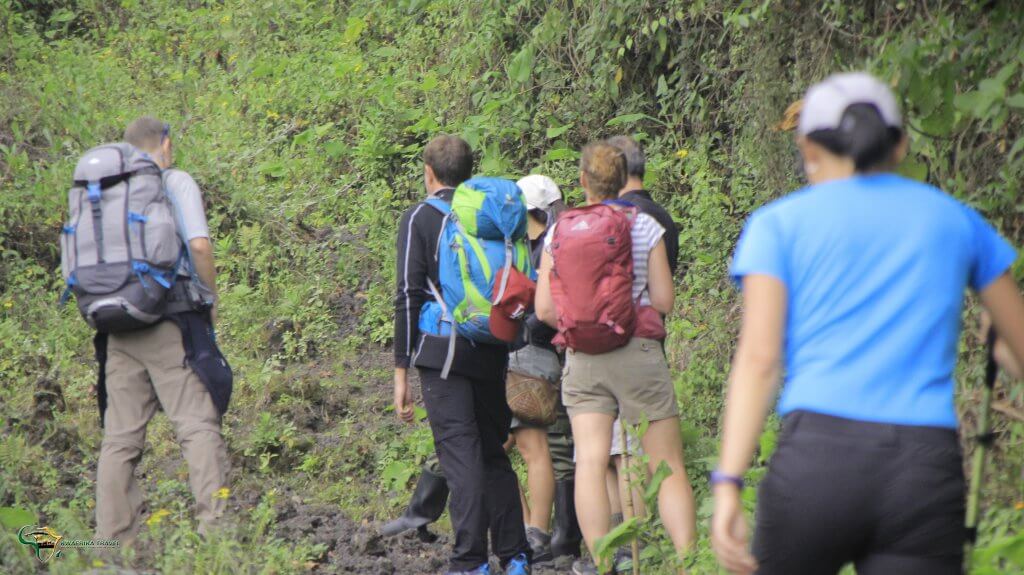 There are certain requisites for going on this 3 Days Nyiragongo hike. First of all, you have to get a yellow fever shot and bring the actual certificate (the authorities will not let you inside the country without proof). With a local tour operator, two hikers would be charged around $1800, which covers transportation from Kigali, Congo visa, accommodation, meals, and porters.
The Congo's volcano hike starts at 6,510 feet and ends when you reach the summit, so it's approximately 10 miles of walking up the mountain. You only get four stops of 20 minutes to rest, but not to worry if you are a slow hiker, the whole group has to stick together and take the pace of the slowest member. During the Nyiragongo Congo's Experience, there will always be four armed guards, two who goes first and the remaining two who goes at the back. They check that no one is left behind. The weather may vary from sunny to foggy in a hot minute. Beware that you may climb the volcano but you may not be able to see the lava, as sometimes there is fog on the top and the crater gets covered in it.