Virunga National Park Congo is extended across the extensive swathe of the Democratic Republic of Congo's border with Rwanda and Uganda. This Park came into life in 1925 making it the oldest Park in Africa. There is nothing incredible as the boiling orange Lava Lake as that of Mount Nyiragongo and the extraordinary biodiversity comprising of wildlife, natural forests, savanna and marshland that characterizes the Virunga National Park Congo.
Much as this country has gone through a troubled past resulting from endless conflicts, it is also popular for its exceptional mountain gorillas, for which this Park exists to protect, and gorilla trekking here offers the most exceptional experience. Trekking gorillas in the Virunga National Park Congo needs adventurous yet intrepid tourists who are willing to do all it takes to achieve their dream of seeing the mountain gorillas. Trekking in Virunga National Park offers an authentic gorilla trekking experience because it doesn't suffer the crowds compared to the neighboring Uganda and Rwanda. This remarkable Park is part of the Virunga massif and is haven to about 400 of the world's surviving mountain gorillas. For tourists to have an ultimate experience while tracking mountain gorillas of Virunga National Park, several classic accommodation facilities exist and they include;
Mikeno Lodge
Tchegera islands
Kibumba tented Camp
Bukima Tented Camp
Lulimbi Tented Camp
Nyiragongo Volcano Wooden Shelter 
Mikeno Lodge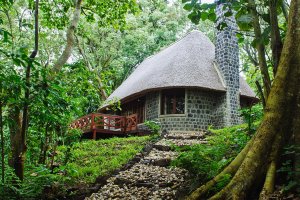 This is Virunga national park Congo's hidden treasure. The luxury Lodge is a pearl located within Virunga mountain ranges and can take long for someone to even discover. It is found in the center of Virunga with spectacular views of the forest, Nyiragongo and Mikeno Volcanoes and the rift valley. Moreover, the upscale and comfortable bungalow accommodations in this Lodge are capacious, splendid and exclusive with phenomenal views of the valley and trees. Above all, the advantage of visiting this Lodge is that it is very accessible from Goma (less than 2 hours from Goma to the Lodge). Each bungalow has a personal fireplace which illuminates in the evening thanks to the staff so that you enjoy your mouthwatering meals in a relaxed environment. Talking of the meals, there is a restaurant on site that serves finger-licking local and international dishes. There are interesting activities within the Lodge and they include nature walks, community walks and Birding among others. This place has gotten several bird species, chimpanzees, baboons, Black and white colobus monkeys and blue monkeys among others.
Mikeno lodge pricing
Their rates are very attractive and they include $390 per room for single occupancy (on full board) and $490 per room per night for double occupancy (on full board).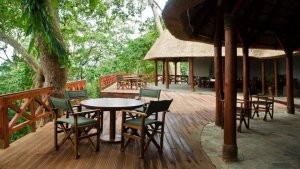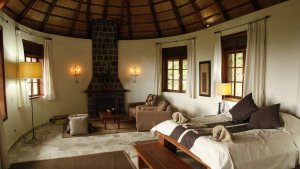 Tchegera Island Tented Camp.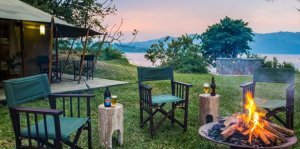 The Virunga National Park Congo in its Northern shore of Lake Kivu contains this tranquil Camp. The camp offers a perfect place to relax after a hectic Nyiragongo volcano hike and is the best escape way from the noise, buzz and bustle of Goma town. Guests who visit this Camp enjoy a breathtaking view of Lake Kivu and four Volcanoes, and interestingly Nyamulagira and Nyiragongo volcanoes make your stay more ravishing because they sometimes turn the night to Sky red with their adulatory lava.
This camp has 8 comfortable tents with amenities like hot/cold water and electricity and meals are served to make your stay memorable. With the abundant bird species such as Cormorants, herons and gulls, tourists can engage in bird watching when they visit this Camp. Other activities include primate walks, Boat trips, relaxation at the beach and Kayaking among others. The amazing views of Lake Kivu, the Volcanoes and Goma town make this place a "must stay" for tourists who visit Virunga National Park.
Tchegera island pricing
Their room rates include $175 per night for single rooms and $216 per night for double rooms.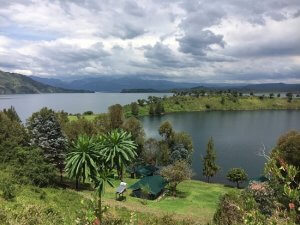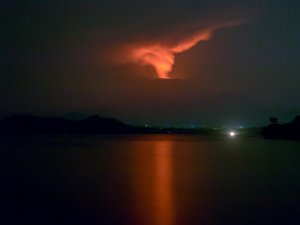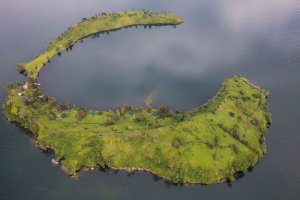 Bukima Tented Camp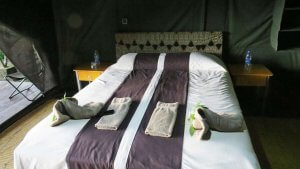 Bukima Tented Camp is a simple camp located outside the Virunga National Park Congo boundary and is one of the starting points for gorilla trekking in this Park. The camp has 6 tents whereby four feature double beds and the remaining ones feature twin beds. This facility was initially constructed for researchers but it now mainly offers quintessential accommodation for gorilla trekkers who visit Virunga National Park Congo. Each tent within this place is furnished with cozy beds and a dresser for putting clothes.
The Southern side of the Camp enjoys picturesque views because it is dominated by Mount Mikeno towering at 4,437 meters above sea level. Not only that, Nyiragongo Volcano is near the Valley and its Lava changes the night sky to red glow. Some guests are always lucky to see some of the mountain gorillas that roam the area around Bukima Tented Camp.
Bukima Tented Camp pricing
Room rates for Bukima Tented Camp include $390 per room per night for single occupancy, $490 per room per night for double occupancy, and these rates include 16% of government VAT and the meal plan is breakfast, Lunch and Dinner.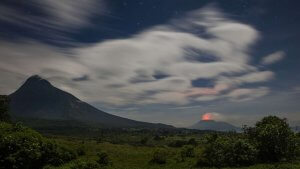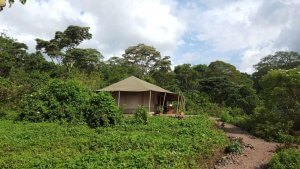 Lulimbi Tented Camp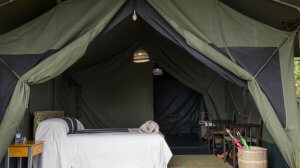 This is one the newest Camp in Virunga National Park Congo (built in July 2016). Strategically nestled in the heart of Virunga, on the Ishasha River with Queen Elizabeth National Park of Uganda. This Camp is composed of 10 private canvas tents whereby 4 have twin beds, 4 have double beds and 2 are set up with 3 twin beds. Each of the tents features en-suite bathroom and is fitted with flush toilets, running water and solar showers. In spite of the fact that the tents are quite simple, they are cozy and well equipped. Other amenities at the Camp include a restaurant, well stocked bar and a lounge tent where guests can relax and enjoy the beauty that nature offers.
What makes accommodation here even more beautiful is that all the tents face the Ishasha River, have private verandas that allow guests to see the nearby pond of hippos, warthogs, elephants, buffaloes and topi, which increases the excitement of being at this camp. This facility exists to serve two reasons; allow tourists to explore the Virunga gorillas and other savanna wildlife and allow visitors to actively involve themselves in conservation programs. The Tented Camp is a new one and has already been opened to the public.
Lulimbi Tented Camp pricing
Rates being $340 per night for single occupancy, $450 for double occupancy and $760 per night for triple occupancy. These rates include breakfast, Lunch and Dinner plus 16% Government VAT.
Kibumba Tented Camp
It's a budget friendly lodge and friendly in all way aspects especially for those that want to experience mountain gorillas in Virunga and Nyiragongo areas. Kibumba host about 36 guests at a time with 18 tents. The camp is the closest to the border with Rwanda in Goma and also to the foot of Nyiragongo making it the most suitable place to stay. The tent is furnished and filled with all necessities making it no different from a luxurious suite: good food, a bar, private shower, comfortable bed etc.
There are two mess tents where dinner and other meals are served. on the spot is also a lounge for relaxing and sharing experiences of the adventures you are yet to take and have already taken.The camp can therefore be a good spot for these who want to track gorillas and hike Nyiragongo in the Virunga National Park Congo.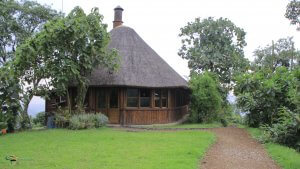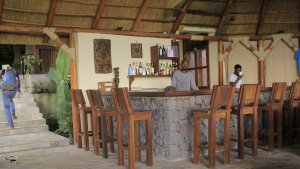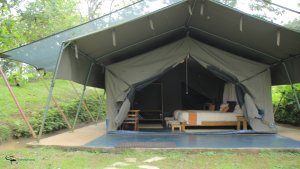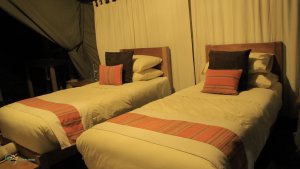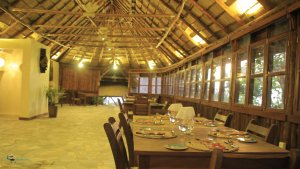 Nyiragongo Volcano Summit shelters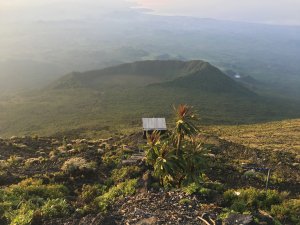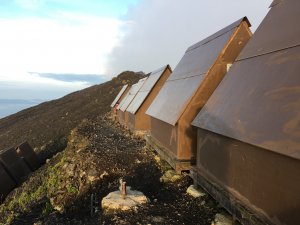 This Spartan accommodation facility offers only camping for tourists to experience the primitive wilderness of Virunga National Park Congo. This facility is mainly used by tourists who participate in the Nyiragongo Volcano hike. There are 12 summit shelters with each shelter containing two single beds where visitors put their sleeping bags. The fact that it is situated about 5 feet high, tourists enjoy the spectacular views of the surrounding area. There is no place where you will relax as you enjoy the eye-catching views of parts of Congo except within this Camp. Comfortable sleeping bags are offered for those that do not have their personal sleeping bags, food is always prepared locally by the porters on small cooking stoves offering a true wilderness camping.
Nyiragongo wooden shelter pricing
The rates for staying in these shelters is usually included in the Nyiragongo Volcano Trekking permits and they include $25 and $125 for Congolese and International children respectively, $90 and $300 for Congolese and International adult tourists respectively. Porters can be hired at $12 per day and $24 for the entire overnight trip, and these porters carry luggage of a maximum of 15kgs. Do not miss night camping in Nyiragongo Volcano Summit shelter while on a safari in Virunga National Park Congo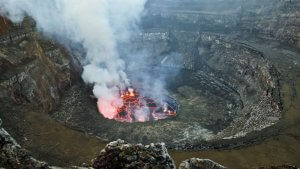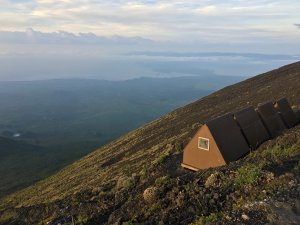 In conclusion, with several accommodation facilities existing in Virunga National Park Congo such as Mikeno Lodge, Bukima Tented Camp and Nyiragongo Volcano Summit Shelter, tourists who visit Virunga National Park for their gorilla trekking safaris are guaranteed of having a memorable experience.